Antech Diagnostics will celebrate the opening of its new,state-of-the-art reference laboratory in Warwick with an expansive presence at the London Vet Show on 16-17 November.
---
Over the course of the two days, veterinary teams will have the opportunity to hear firsthand from Antech's experts about the latest innovations and diagnostics developments through an exciting programme of live educational sessions taking place at the Antechstand (G10).
From unravelling haemostasis testing to uncovering the 'twist in the tail' with urine problems – an exciting programme of live educational sessions will provide case studies of the complete diagnostics portfolio.
One of the unique services the new reference laboratory in Warwickoffers is flow cytometric immunophenotyping – first developed by Dr. Butty Villiers in the UK in 2000. Dr. Villiers won't be the only expert on the Antech stand sharing her veterinary clinical pathologist expertise with visitors; she will also be joined by colleagues Dr. Rachel Pittaway and Dr. Laura Inman, with joint presentations from Dr. Holly Brown and Jessica Wilson-Hess. Together, the speakers will deliver a full timetable covering topics including how pet health can be advanced through genetics in veterinary practice and a clinician's guide to histopathology.
Visiting the Antech stand, London Vet Show attendees will be able to learn more about how Antech supports veterinary care teams through data interpretation and tailored expert advice. Just a few of Antech's key diagnostics offerings include:
KeyScreen® – the most advanced GI parasite screening solution in veterinary medicine
Nu.Q® – a powerful, but cost-effective, breakthrough in canine cancer detection
AIS RapidRead™ – today's fastest, most accurate rapid imaging technology enabling diagnosis in under 10 minutes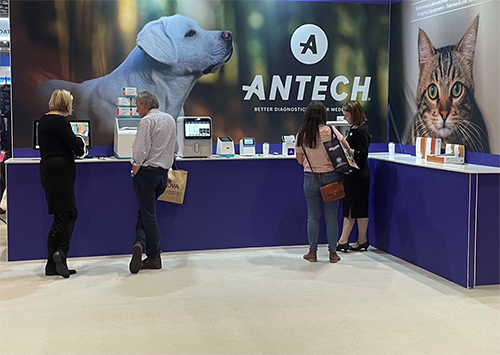 As well as finding out more details on the comprehensive AntechDiagnostics offering, visitors to the stand can also pick up a free backpack.
To find out more and to view the live sessions visit https://web.antechdiagnostics.com/antech-london-vet-show-2023